Photography provided by Marissa Piribauer, Pieter Naus & Maia Grieg
Your Coach:
EDGE FN's owner and coach, Margaret Gralewicz, is an experience educator, nutritionist and athlete. Her love for food and health, her innovative approach to coaching, and personable demeanour provides a supportive environment that delivers the foundation and framework for sustainable diet and nutrition education with the skills necessary for you to reach your health or training goals.
Margaret has gained a wide and varied appreciation for health through both her education and personal life experiences. She holds an Honors Degree in Biological Sciences and a Masters in Food Health and Nutritional Sciences.
Her own sporting experiences as a lightweight rower both locally and abroad; competing in Canadian Henley, Women's Henley Royal (UK), European University Championships and British Championships, in addition to running Marathons, has allowed Margaret to gain extensive knowledge around appropriate nutrition specific to training and competition, whether short distance or endurance.
Margaret loves spending time in the kitchen and views it as a wonderful place to experiment and get creative. Register by email or follow @edge_fn on Instagram for some of her great recipe ideas and suggestions.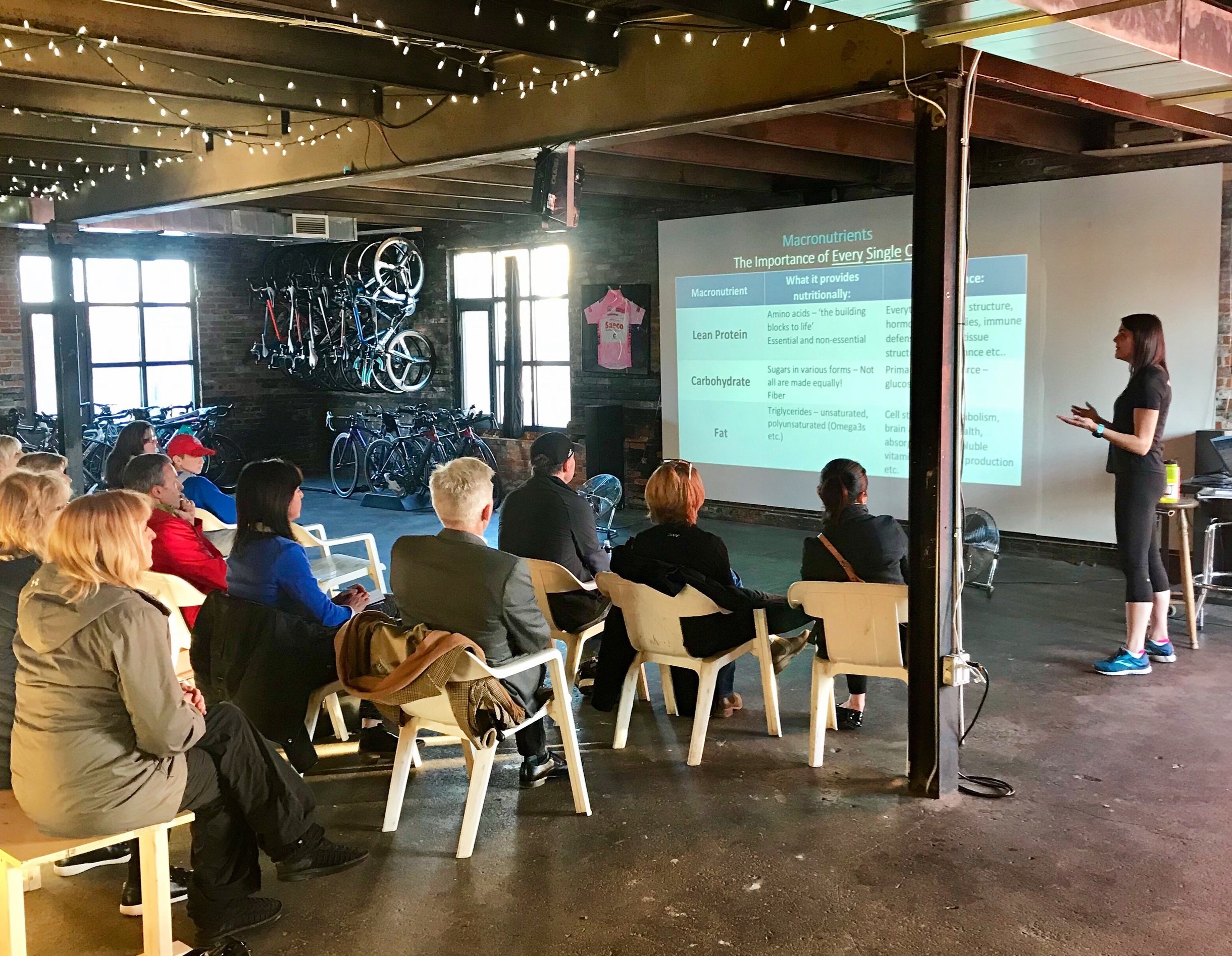 Nutrition Seminar for Edge TRIATHLON Athletes at Liberty Niagara
Margaret shared some key knowledge on training and race day fuelling in April. Edge athletes learned about nutrition as a key component to training. The focus was on consistency and quality of nutritional intake, including the importance of key macros, micros and phytonutrients to their performance and recovery.
Before getting hooked up with Margaret I was not doing well. I've always been extremely active but have never taken nutrition seriously, and as I have aged that has become more and more of an issue as I struggle to feel comfortable in my shrinking clothes and self-loathing brain.
After a few months of working with Margaret though, EVERYTHING is different. And it was SO. EASY. She assessed my situation with patience and care and then proceeded to tweak my habits SO slowly - it was honestly annoying at first - that I didn't really have to think about it. I continued to gain weight at the beginning, (Christmas. Ugh.) but then, suddenly, IT ALL STARTED FALLING OFF.
I have lost over 23lbs so far in the last 2 months. And it has been EASY to lose; the first 6 I didn't even NOTICE. For the first time ever I am not FOCUSED on dieting, feeling starved as I go about my day. I have the energy and strength I NEED for my insane workouts. And my pants are falling off hahaha!!
THANK YOU Margaret! I cannot ever remember feeling more empowered or more in control of my body than I do right now! EVERYONE should work with you!! xoxo
Rebecca - Relentless MMA, Wako National Championships silver medalist
Pearl Gloves Charity Boxing Event 2018
Margaret had the pleasure of working with Tim 'The Titan" Warden in preparation for his fight at this year's Pearl Gloves charity boxing event in aid of MS.
Tim achieved significant weight loss and gained fantastic skills, adopting a more balanced diet but one that also supported his training and epic performance come fight night.